As a child, Milton Hershey served as an apprentice to Mr. Royer, a Lancaster, Pennsylvania candymaker. His mother paid to have him learn his new trade. In 1886, the candy-maker began to manufacture caramels at his own plant in Lancaster. He created the Hershey Chocolate Company in 1894 to make chocolate coating for these caramels. In 1900 he sold his caramel company for $1 million. Today Hershey's chocolate is known the world over, and the town that bears his name has become the chocolate capital of the world.
Milton Snavely Hershey perfected his own formula for milk chocolate, and in 1900 began producing the Hershey Bar. In 1903 he began to build a factory in the farm country of Derry Church, PA where he was born and raised. In 1906 the community he had established for the workers in his new factory was renamed Hershey.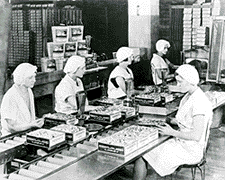 Today, Milton Hershey's mansion serves as the headquarters for Hershey Foods Corporation. And Hershey is still the home of the world's largest chocolate and cocoa manufacturing plant.
Milton Hershey was very community-minded, and donated money for many of the cultural and recreational facilities found in Hershey. These included a amusement park and zoo, public gardens, and a sports arena.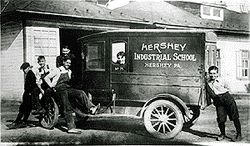 Though childless, the Hersheys loved children. In 1909 he and his wife established and financed the Milton Hershey School, an educational institution for orphaned boys. In 1918 he placed most of his fortune in trust for the school. Today, the Milton Hershey School enrolls 1100 boys and girls who meet admission criteria. In 1970 Founders Hall was dedicated as a tribute to Milton S. Hershey and his wife Catherine. The Founders Hall Rotunda is the second largest in the world. Visitors can tour areas of this beautiful building and its grounds weekdays all year. Admission is free.
Photographs on this page courtesy The Dauphin County Historical Society.