Harrisburg has been an important transportation center since the days of riverboat traffic. Its western boundary is formed by the Susquehanna River. This location played an important part in its selection as the capital of Pennsylvania in 1812. Because of its location, Harrisburg played a large part in the early development of the Pennsylvania canal system and the subsequent development of the railroads, highways and airlines. Today, Harrisburg is one of the most important commercial centers and distribution points in the East.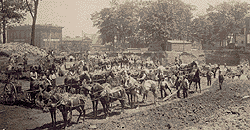 In colonial days, John Harris operated a ferry at Harrisburg. His son, John Jr., laid out the town of Harrisburg in 1785, and gave land to the Commonwealth of Pennsylvania that was later used for the Capitol grounds. The capitol building is an Italian Renaissance-style statehouse. It is an example of outstanding architecture, with collections of art and scultpture, including large murals. On the floor of the main hallway, tiles show Pennsylvania's history, symbols, insects and animals.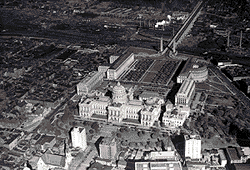 At the dedication of the Capitol building in 1906, President Teddy Roosevelt described this structure as "the handsomest building I ever saw". The capitol dome rises 272 feet. This vaulted dome weighs 52 million pounds, and was modeled after St. Peter's Basilica in Rome. It's beautiful staircase looks like one from the Paris Opera. Over 100,000 people per year enjoy a free tour of Harrisburg's Capitol building.
Walk across a plaza to the Forum building, housing the State Library, an extensive Law Library and genealogical search room for visitors.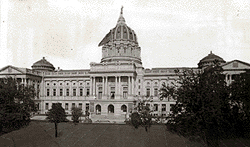 If you would like to take a free tour of Pennsylvania's Capitol building, call or write the General Assembly's Office Of Capitol Visitor Services at 1-800-TOUR-N-PA (800-868-7672). You will want to reserve your tour as far in advance as possible. Allow 40 minutes for a tour. Tours are available weekdays, weekends, and some holidays. No tours are given on New Year's Day, Christmas Day, Easter Sunday, or Thanksgiving.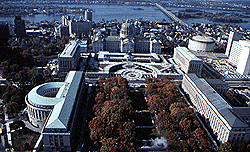 You can also explore Pennsylvania government at work by visiting the Welcome Center at the Capitol. Learn about Pennsylvania Government — and have fun in the process — by reading, listening, touching and interacting with 18 colorful, informative exhibits. The Welcome Center is located in the East Wing of the Capitol, and is open regular workdays (Monday through Friday) from 8:30 am to 4:00 pm.  Tours are held year 'round, Monday through Friday, 8:30 am – 4:00 pm every half hour and Saturday, Sunday, and most holidays 9:00, 11:00, 1:00 & 3:00 pm.
Photographs on this page courtesy The Dauphin County Historical Society.