Hershey PA Attractions & Things To Do
Here is a list of local attractions and points of interest in and around Hershey.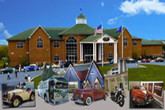 161 Museum Drive,   Hershey, PA 17033,   717-566-7100
What was your first car?  What is your dream car? Cruise down memory lane and enjoy fabulous original and restored cars, trucks, buses, motorcycles & more!    Hands-on exhibits and model trains add to the fun for all ages. Visit us online for details on featured exhibits, special events, and experiences.    Visit website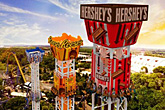 100 W. Hersheypark Drive,  Hershey, PA 17033,  717-534-3900
Hersheypark is a premier 121-acre amusement park with over 70 rides and attractions, including 14 roller coasters, 16 water park rides, dozens of family rides, and over 20 kiddie rides. Plus, admission includes ZooAmerica North American Wildlife Park.
Adventure Sports in Hershey
3010 Elizabethtown Road (Rt. 741)
Hershey, PA 17033
717-533-7479
Antique Automobile Club of America Museum
161 Museum Drive
Hershey, PA 17033
717-566-7100
Giant Center
100 W. Hersheypark Drive
Hershey, PA   17033
717-534-3911
Hershey Bears Hockey
100 W. Hersheypark Dr.
Hershey, PA   17033
800-HERSHEY
Hershey Gardens
170 Hotel Road
Hershey, PA 17033
717-534-3492
Hershey Story, The Museum on Chocolate Avenue
63 W. Chocolate Avenue
Hershey, PA 17033
717-534-8939
Hershey's Chocolate World
251 Park Boulevard
Hershey, PA 17033
717-534-4900
Middletown & Hummelstown Railroad Company
136 Brown Street
Middletown, PA   17057
717-944-4435
Spring Creek Golf Course
450 E Chocolate Avene
Hershey, PA 17033
717-533-2847
Troegs Brewing Company
200 East Hershey Park Drive
Hershey, PA 17033
717-534-1297
Zoo America
100 W. Hersheypark Dr.
Hershey, PA   17033
800-HERSHEY